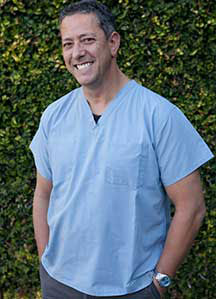 Dr. David Isaacs was born and raised in the beautiful city of Cape Town in South Africa. He attended Dental School at the renowned University of Stellenbosch from which he graduated as a Doctor of Dental Surgery just a few months after turning 23. Dr. Isaacs then served 2 years national service as an officer in the medical corp. A most memorable time was a four month mission to South West Africa, now Namibia, where he travelled around remote areas of the country providing much needed dental services to the local peoples. The world was calling and upon his discharge from the service, Dr. Isaacs travelled to London, England where he practiced general dentistry for over 8 years.
Feeling a need for growth and change, he decided to go back to school, this time at the prestigious Ivy League school, the University of Pennsylvania in Philadelphia from which he graduated as a Specialist in Periodontology (Periodontist). Staying in academia, Dr.Isaacs spent 6 years as an associate clinical professor at the University of Southern California teaching periodontics. During that time he also worked as a staff research associate at the University of California, Los Angeles, compiling articles for UCLA's Periodontal Information Center and learning about cross town rivalry.
After spending just over a decade working as an independent contractor Periodontist all over Southern California, Dr. Isaacs felt the need to be involved in all aspects of the patient's needs and dental care. To this end, Dr. Isaacs established Woodman Dental Care where he can provide comprehensive care for all his patients. Dr Isaacs is a member of the American Dental Association and the California Dental Association and was a member of the American Academy of Periodontology for over ten years.
Outside the dental office, David enjoys sports, music (in the office too), culture and people. He is passionate about mankind, the world and the universe we inhabit and is a long time environmentalist. The centers of his universe are his sons, Daniel and Benjamin, whom he loves more than he can understand. For these he is eternally grateful to his wife and the Master of the Universe.